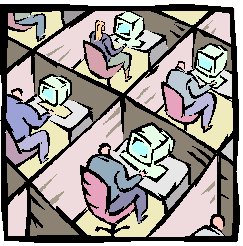 Most people had today off for Presidents' Day. Because I'm in retail, this was another Monday for me at the office. It wasn't a big deal to be at work. Traffic to and from work was very light. Last Friday, I moved to another cubicle, so it took a conscious effort for me not to walk to where I used to sit.
Since our next holiday won't be until Memorial Day, I should try to arrange to take a day or two off. I have almost a month's worth of vacation accumulated. But it's hard to be off for more than a day because there's no one to do my work in my absence. Luckily, some of the reports I do were recently automated, which helps a bunch.
I'm not sure what the next few months will hold in store. Our company is undergoing major changes right now. Some days I think we're really getting somewhere, some days we're not. I think it's going to get worse before it gets better.
image courtesy of
extremelysmart.com